TREASURER RESPONSIBILITIES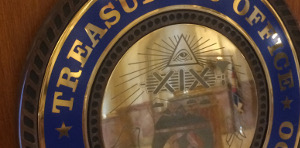 The State Treasurer is primarily responsible for management of the funds held by the State of Colorado. This amounts to several billions of dollars at any given time, spread over dozens of specific funds. The highest priority is the safe keeping of those funds and maximizing any investment potential, within strict guidelines of prudent investment. The Treasurer does not establish the budget, that is the job of the legislature, but the Treasurer is responsible for the distribution of those funds as authorized in the budget.
Additionally, the State Treasurer serves on the
Public Employee Retirement Association (PERA)
board, administers the "
Great Colorado Payback
" (unclaimed property fund), tracks bonding commitments of our state colleges and universities and other state government agencies, the
interest free loan program to school districts
, and other responsibilities related to the finances for the State of Colorado.
Finally, a responsibility not listed in the state constitution or state statutes, but something I believe is essential to fill the position of State Treasurer, the Treasurer should always be a watchman on the wall for the People of Colorado. As a state-wide elected official it is an obligation that the Treasurer speak out in a very public way on all major issues affecting the people of Colorado. To effectively fill this role the Treasurer needs to understand how Colorado works. My 15 years of experience in the legislature, serving on the Joint Budget Committee and  Chairmen of the Senate Appropriations Committee and my consistent record of standing up for what is right has prepared me well for this final responsibility of the Colorado State Treasurer.